Per me finger-knitting or knitting with your fingers was a real discovery!!A discovery because it seems to me the best way to introduce children to knitting jobs….even the smallest. Indeed, crochet and knitting needles requiring precision motion that only older children can get.
The jersey made only with the use of the fingers is much more simple and intuitive. It, also, the great merit of showing the result immediately….. and within a few minutes you can get long wool scarves.
La mia bimba in 6 years had fun as hell and he has learned in half an hour, to his own satisfaction.
I helped a lot this Videos explaining how to do it using only the fingers to make the shirt. There are several network, but this is the simplest and the images are very explanatory.
I, therefore, I tried and then I taught my little girl, that after about 45 minutes of work got this little white scarf that he wanted to give to his brother. I have merely stop the wires and finished with a colored wool or crocheted.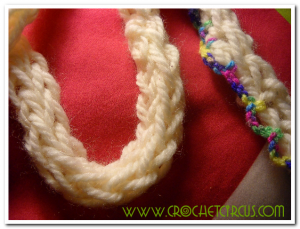 Obviously just finished his work he wanted to start with the red to make a belt to his father.
I advise you to see your children, this activity allows them to dedicate themselves almost to a job Medidata ( and for that I consider very educational) and also gives them the satisfaction of seeing accomplished something with their hands.
Share and Enjoy