I call them purses, from a young age because my grandmother and my aunt, that they do every Easter, they always call it. For many years I wanted to try to make them, first of all because I love this sweet-tasting and easy then because, being entered into the magical world of mother pasta, I could not feel bound to try to use it even for those who are Mash Easter at the supermarket at this time but, industrially made, have lost their natural taste and not recognize almost.
I found a few recipes with sourdough (The basic recipe I found that), but I put together the tips of my grandmother (inevitable!) and my aunt and the result was more than good. The only drawback: I missed the containers; instead of using those from 750 I used the ones from gr 1 kg and my purses there are some' wide…….that the cosmetic result is not exactly what I wanted. What about!!! I'll just make the building on experience.
Meanwhile, here's how they came:
I write the recipe and the process is not particularly difficult, but that requires some' patience and dedication, amply repaid by the result. I used all organic ingredients (flour, eggs, oil etc..).
1100 grams of flour OR
700 grams of flour Manitoba
210 g of yeast (io use the mother liquid paste)
90 g of water
12 eggs
700 grams of sugar
200 g of olive oil
70 g in the burro
190 ml of liquor (I put two thirds and one third of maraschino mint) to taste
25-30 g of anise ( depending on your taste)
grated rind of two oranges
grated rind of one lemon
The above ingredients are used to make 4 crushed from about 750 gr one o'clock.
Weigh all the ingredients, except the butter and prepare them all on a table, handy, for processing. In particular, blending the two types of flour in a bowl so that the Manitoba is well mixed with the flour type O. In the following paragraphs will draw ingredients from containers for which we have already weighed, making sure to put the liquid ingredients first, and only after those solid, like sugar and flour.
At night I prepared a chariot with 210 g of yeast dissolved in 90 grams of water just lukewarm and adding 200 grams of flour (outlet from the container that contains the mixture of the two flours) let rise covered with a cloth ( wet and wrung out) overnight
In the morning add to the chariot of the night before 1 egg, 1 spoonful of sugar , 1 spoon of liquor and the amount of flour that will serve to make the mixture homogeneous and elastic. Let this dough rise for about 6 hours at room temperature always covered with wet cloth and wrung out.
After the 6 hours added to the mixture 3 eggs, 3 tablespoons of sugar, 3 tablespoons of liqueur and flour needed to make it homogeneous and elastic. Let dough rise until the evening.
Add the dough, arrived in the evening, 5 eggs, 5 tablespoons of sugar, 5 tablespoons of oil, 5 tablespoons of liqueur and flour needed to make it homogeneous. Let rise overnight. I face the night before I divided the dough into two large bowls because its volume will double and will have the space to expand; should not risk it exits the contenitore.Ho put, also, anise liqueur in the bath was.
In the morning I add all remaining ingredients, starting with those liquids, including 70 grams of butter that I had previously made liquid by dissolving it (in a water bath) and I worked together to obtain a homogeneous mixture and elastic. I weighed and divided into 4 equal parts in special containers that have outsourced cardboard (but you can also use small pots of enamel, As my grandmother always made, that the well oiled butter). It' important that the containers, Once placed inside the dough is no longer motivated to which we should place them on baking sheet or directly on the grill of the oven which is used for cooking. Let them, therefore, rise throughout the day.
In the evening, gently brush the surface of the four now leavened dough with beaten egg and place in preheated oven at 180 ° C. They will cook about half an hour.
Without cool purses are preserved inside tightly sealed nylon bags.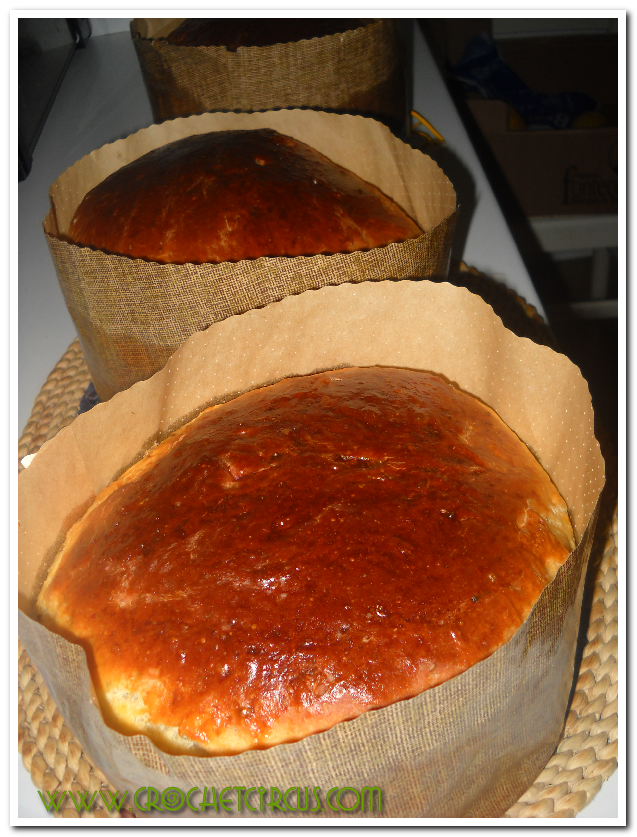 Share and Enjoy