I could not avoid, after the Mash Easter at Tuscany, from using my sourdough for the inevitable Dove. I had never done before, but it has given me great satisfaction, so that the day after they were baked already disappeared….a regalata, ravaged the other in record time by us greedy family. This sub is wrapped for gift.
The recipe I used is this, After having examined several found on the web.
First mixture
sourdough 175 gr
sugar 125 gr
yolks 100 gr (about 5)
water 190 gr
donkey 135 gr
farina Manitoba 500 gr
Second dough
The first mixture
sugar 125 gr
honey 10 gr
water 50 gr
yolks 100 gr
farina 00 250 gr
sale 8 gr
donkey 125 gr
candied 250 gr
vanilla 1 pinch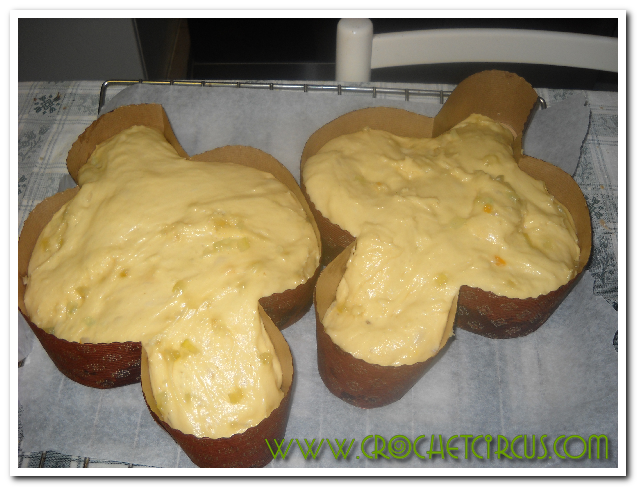 Freezes to the dove
Almond 30 gr
Kernels 15 (are similar to almonds, only more' loving and less expensive)
Granulated sugar 150 gr
Albume q.b.
The explanation of how it found in the this link and since it is explained very well not think I need to say more except that the time to rise for me were a bit' longer, in particular for the leavening of the second mixture, which (instead of 4-5 hours) for me it was lengthened to 8.
If you want to try it I'll be happy if you send me a picture of how it came, because I would put together the achievements of those who read this blog.
Finally we mark Other recipes with sourdough Dove, so that you can choose the one that seems more to your liking. Like all things made with their hands, really it is very satisfying that sweet fragrant remove from oven and expect to be able to accomplish as in confectioner….Happy Easter!
Share and Enjoy