After having spoken of'crochet hyperbolic behold, now I show you some works with this "technique" that are part of a beautiful project of art shared. This is the project of Hook Itinerante, the party'last year an idea of ​​Simonetta Russotto and Rita Cavallaro and now in its second edition.
The aims dell'inziziativa with the words of the creators:
JOIN THE ARTISTS BY A THREAD OF ORIGINALITY '.
FOUND THE MUSEUM OF CROCHET.
MAKING A GREAT STRUCTURE WITH THE TECHNIQUE OF CROCHET BY EXPERT HANDS OF WOMEN AND MEN DO AND TRAVEL IN ITALY AND ABROAD
The result of this first edition was, with a special contribution also Daina Taimina, Latvian scientist creator crochet hyperbolic:
The work was exhibited at the Cultural Shipyards Zisa in Palermo for the Event "Let us open Shipyards".
Hundreds were people who were able to watch the live work. That
is available
for those who want to show in as many suitable places.
This year it has occurred Crochet Travelling with a Second Edition that has already seen the participation of several hands in creating a colorful snake. From Sicily to Tuscany, the message thread is traveling to create a work of art to display yet shared in public. This image represents a part of the result up to now obtained (find the names of the participants in the Blog
Hook Itinerante 2
):
After seeing the works of the first edition and after meeting Simonetta Russotto I could not resist and I wanted to participate in this edition. It' was fun to get the snake worked crochet and other passionate add my piece the colors and finding the most suitable forms to continue in harmony with their choices of wire and shade. I show you how I contributed to the snake and, as soon as the work is completed, I promise to bring it back to a post to show it.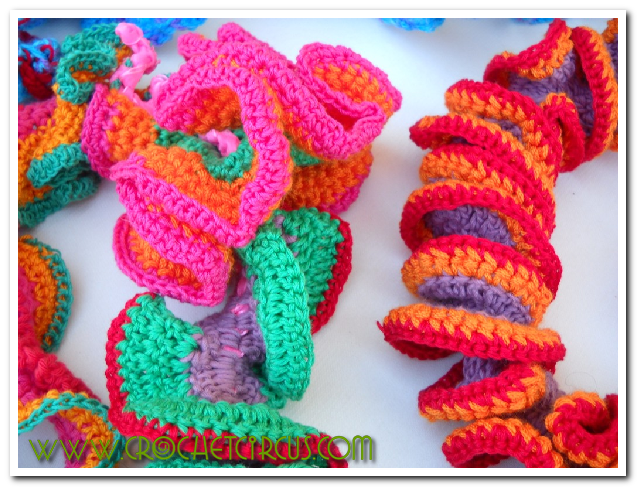 And that's all the snake now, before sending it to the next star of Crochet Itinerant.
Share and Enjoy