This is one of those recipes that I pulled out observing network in various preparations and especially taking into account an idea that came to me long ago: use the pan with a hole that I always saw in my grandmother's house when I was little.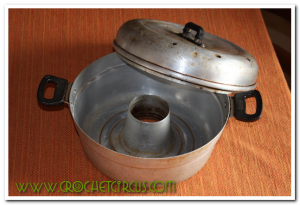 Use the pan with a hole (I do not know exactly how it's called in commercial, because there is the name of "Petronilla", but that has a side window that my pan no…..) has a considerable advantage: You can bake cakes (but also roast and other dishes) using gas instead of the electric oven with relative, considerable, energy saving (and economic ;-)). My grandmother made us her nice donut with baking classic, that in sachets, but I thought that you could very well make us a sweet sourdough. The experiment was successful and happily share the recipe. For those who do not have this pan Council heard a store kitchen items and I think you reperisca with little money.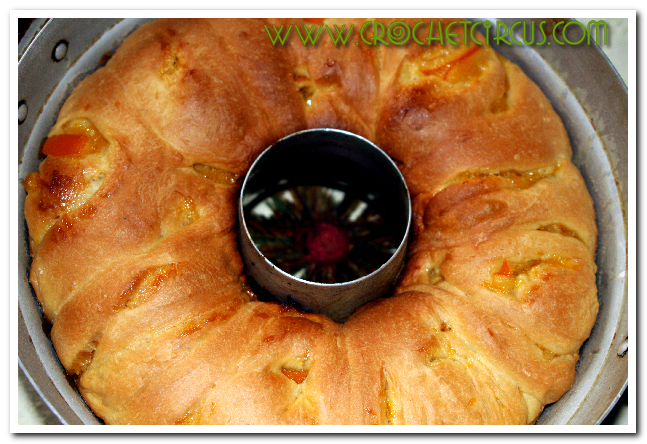 Donut of roses
100 Mother settles gr di Pasta (to convert the recipe for PM solid look here)
100 gr sugar (I use the cane)
1 glass of milk
400 grams of flour (I used bio Manitoba, but that's okay too Flour 00)
100 gr burro
2 eggs
jam or cream filling to taste
I mixed my sourdough (refreshed 5 hours before and left out of the fridge) with the warmed milk, I added sugar, eggs and, very slowly, flour. Meanwhile, I melted the butter cream. I worked the dough for 10 minutes and I added up the butter cream making it absorb well and still working 10 minutes. When the mixture is well blended and smooth result I covered with a damp cloth and wrung out and left it to rise for about 12 hours out of the fridge in a warm.
I took the dough gently and I pirlato (see Video for pirlatura) well good to give it strength after which I laid out in a rectangle (operation to be done without rolling pin) I smeared over orange marmalade, I rolled. At this point I cut the roll in many "swivels" (also called "rose", hence the name of the sweet) that I placed in my pan with the hole in two layers. Obviously necessary to butter the pan well and pass on the butter a little flour. I covered it with a cloth soaked and wrung out and left to rise in a warm 5-6 hours, until doubled in volume.
At this point I put on the stove to gas the pan (it rests on a small support of iron that sell along with the pan and which serves to distribute the heat evenly). I turned it on high heat for 4 minutes and then I turned to minimum for 50 minutes. Here is ready the sweet electricity to zero.
The softness of this donut will amaze you, and is typical of the wonderful cakes made with sourdough.
Share and Enjoy