I want to dedicate this recipe to those who were present at the first course of baking, which was held in our town in conjunction with the PM National Day last Saturday 2 February. The enthusiasm and interest of the participants (There was also a guy to tell the truth, so it's not quite right the feminine!

)have demonstrated to the course topics have renewed my passion for Pasta Mother. So much so that I created a group on Facebook to share with them again and with whom you want to enroll, recipes, advice, photo. I called Community Pasta Mother Volterra and surroundings and is proving a very very active community.
I'm happy with how the meeting went on bread for several reasons:
first of all because I like to spread the idea that, despite the daily message that comes to us through TV and various media, we are not just individuals-consumers, but we are also able to "produce" and create with our own hands something good and healthy.
second because I had the opportunity to sow in the hearts of those who came a little, trivial, ma great idea: we can return to reclaim our life time, despite the demands of work and daily pressing. I think anyone who has tried to make its bread has realized that getting up early and knead or devote half an hour of your routine to do something for himself and his family adds quality to their way of life. Before being overwhelmed by the tight schedules that requires us to work here I crop a moment of peace and quiet and dough. Can anyone do and when he started with the bread, then be able to carve out a minute to read, a minute to listen to their children…..one minute slow within a day too fast.
third because share "know-how" combines. The Facebook group that was born almost spontaneamnete is an example. And since this little virtual community that is born has the ability to gravitate to a well-defined (Volterra and surroundings) I wish it would not remain only virtual. There is the opportunity to meet physically and we will.
Enough with the chatter. I promised you a recipe (the original recipe they only used the yeast found at this address). What I am writing to you is the Mother Pasta, obviously. Here it is: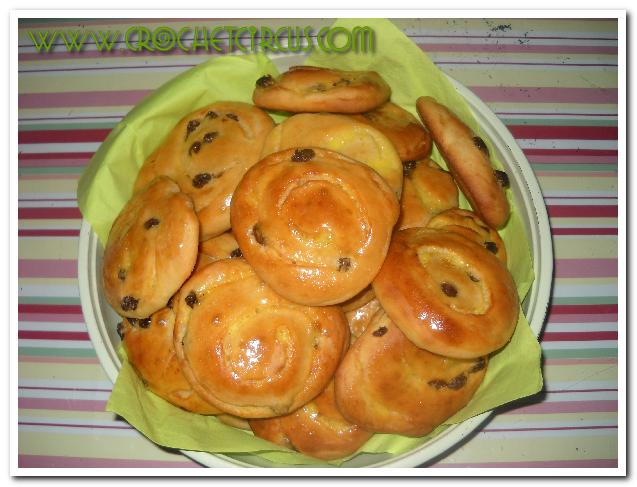 SWIVELS WITH CREAM AND RAISINS
Ingredients:
g 250 farina Manitoba
g 250 farina 00
g 75 sugar (I use the cane)
g 5 sale
g 75 donkey
150g di pasta liquid mother
170 ml of water
170 ml of milk
grated orange or lemon
1 egg yolk
1 teaspoon of honey
1 album
3 tablespoons of water
2 tablespoons of sugar
raisin 2 the 3 fists
Custard (I use the recipe of 'Artusi)
250 ml of whole milk
2 yolks
20 g of corn starch (the 30 g of flour)
50 g sugar
smell of vanilla
whole lemon peel to remove freshly baked cream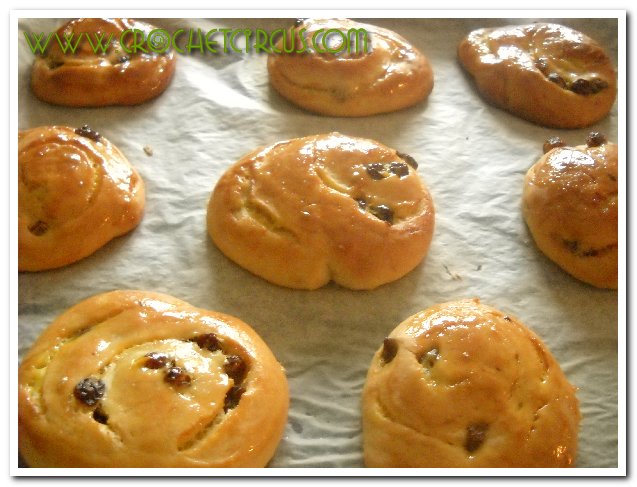 Procedure:
In the evening take a poolish with water, the yeast, honey and 150 grams of flour taken from the total. Allow the dough to double, it will take about 3 hours.
Then kneading with the remaining ingredients (butter in last) and leave the mixture for 40′ in a warm place. If proof were needed, may be added to the dough 2 the 3 tablespoons of flour (I have added because the dough was too soft, but depends on the type of flour that is used and how it absorbs liquids).
Then place in container, cover with plastic wrap and refrigerate until the next morning.
In the morning, take out the dough, wait about 30′, then make the folds of the first type, as indicated that
Cover with a damp cloth and allow to stand 1 now.
Then roll out the dough with a rolling pin by reducing it to a thickness of about half a cm. After it is stretched is poured over the entire surface a layer of pastry cream, and above it spreads a little' d'uvetta, previously soaked in warm water.
Fold the dough to the bottom as you do to make the noodles; then cut the swivels width of about 2 cm.
Align spaced sweets obtained on a baking, brush with the beaten egg white and let it rise for a couple of hours.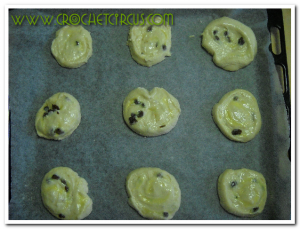 Bake at 200 degrees for 10 minutes and then lowered to 180 ° C for other 20 minutes until they are perfectly golden.
Polished to give a swivel, is prepared in a saucepan syrup made from sugar and water, and, after it has been boiled for a few minutes you spennellano freshly baked.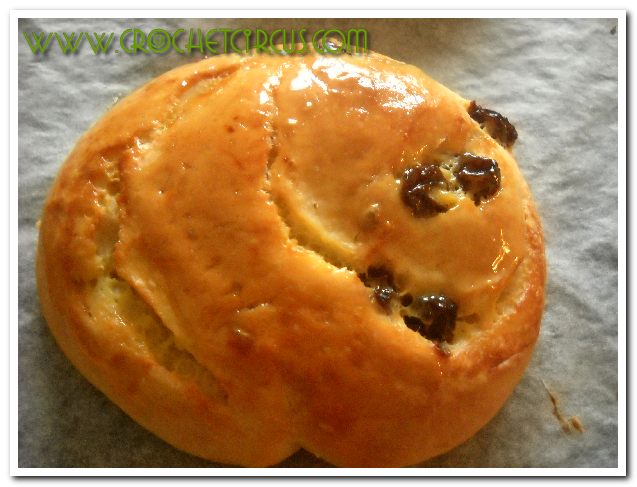 Bon appetite!!
Share and Enjoy