For some' time I wanted to post this recipe because, among the things that I made with my Mother Pasta, is one of those that give the most satisfaction and which I consider the most versatile.
The recipe which I reproduce below is a mix of several recipes that I found online (referred the main one can be found here) I turned to liquid and use my PM to obtain a more soft.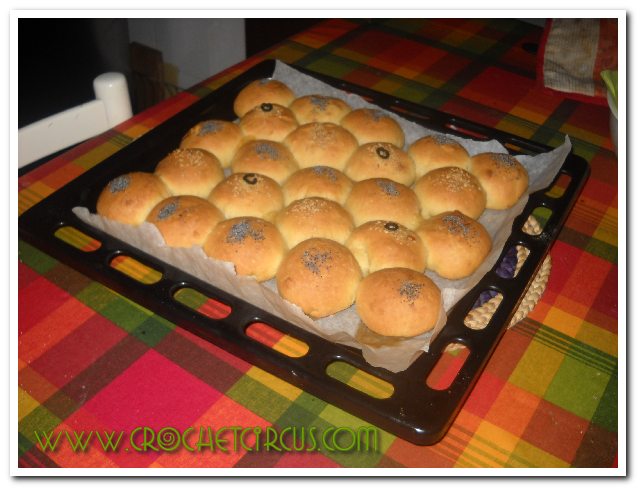 In fact, the main feature of this cake, which can be either savory than sweet, is the amazing softness of the. The balls are so soft as to surprise the palate of those who taste

Try, is it really that!
Ingredients:
475 flour ( Or you can use white flour, but also partly integral)
150g di pasta liquid mother (pm if you want to use solid or yeast see the directions at the end of the recipe)
100 g in burro,
175 milk,
1 egg, 2 yolks,
8 g on sale,
1 teaspoon of brown sugar
For the filling, use your imagination: emmenthal, prosciutto cotto, pancetta and taleggio, mix of vegetables pan-fried.
Warm the milk and pour it into a bowl, add the flour, eggs and softened butter. Place in a small bowl the dough with a teaspoon of sugar and mix well. Add the yeast mixture, work for 10 good minutes. Then add the salt and other work 10 minutes the mixture. The result should be a nice smooth paste.
Put the dough in a bowl covered with a damp cloth and let rise until it increases to three times the volume ( I have left it overnight).
Take the dough and divide into balls (I would say that the ideal size is about 50 g to pellet), flatten one by one and farcirle to taste.
Close as a bundle and place them with the closing down. Place each ball in a baking pan well spaced.
Let rise until doubled in volume (depends on the temperature outside, but will not be less than 4-6 hours).
Once leavened
brush with egg yolk and milk and bake at 180 ° C for about 30 minutes.
You will get this result. As you can see it is very versatile: you can use a rectangular baking pan or round cake pan and you can garnish with seeds, olives or what you called the imagination.
For the sweet version, just do not add salt to the dough and fill with cream, jam or whatever you would like.
Good appetite with the cake Danube!! I run to post this article on the group Community Pasta Mother for my companions adventure with PM.
Share and Enjoy