This post is the result of a series of beautiful days spent with my grandmother to chat and to seek in his memory gestures of a manual now too rare to find today. This story worth to be told if only for these dialogues between generations which I found to be beautiful in their slow wealth of discoveries.
Before the summer, it occurred to me to make homemade cheese (after the bread and a series of gentle with sourdough throughout the winter which was the least I could suck!) and I faced the problem of finding the vegetable rennet, because I did not want to use the proceeds from the stomach of lambs (

). I found very little to a company from which I take the raw milk bio, which also produces cheese, but I could be enough to make cheese, and once via…… I remembered, but, I heard my grandmother talk about the cheese they were doing at home when she was little and I decided to talk to him about.
From this idea arose a series of walks in the countryside where she lived as a child to riceca of thistles: In fact, his iron memory well remembered seeing her aunt use (the cheesemaker home) parts of the flower of the thistle to coagulate the milk. They called these plants "Press".
In May, we found them in the exact place where my grandmother led me safe, but still were not ready to be collected.
We went back to the beginning of August and between a story and one of the places of his youth, rich in details for me sweet, saw the flowers in bloom and beautiful purple, just as I had described her grandmother speaking to the thistle ready to be cut.
The' impresa was arduous: with leather gloves and pruning shears tried not to sting me with the long and treacherous thorns of large plants (as tall as me and even more). It picked up in order to have a good supply.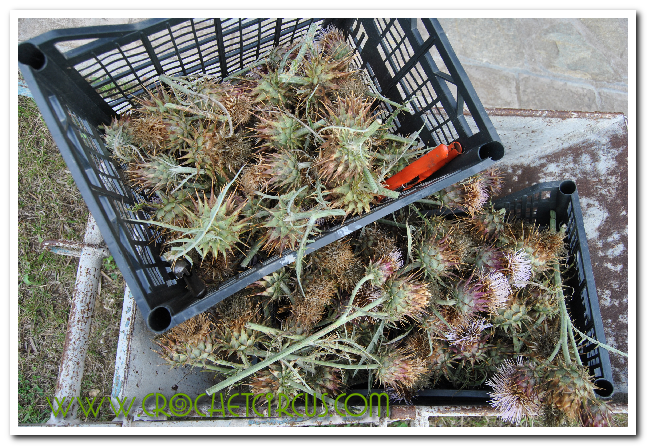 And now I had to follow the directions of the grandmother to prevent thistles sciupassero: we put them in the dark, upside down, in a closet to dry. Only after about two months I felt that touching the pistils (those who were of a beautiful purple color to the collection) is paraded well from the body of the flower. I have taken the amount that is in a fist and I tried to use it to make cheese.
According to the explanations of my grandmother at this point I would have to pour in the warm milk and then squeeze the pistils inside the milk to coagulate. So I did with somewhat experimental maneuvers (using a gauze to prevent the hairs fall and remain in the milk). And then I waited………an hour later, nothing had happened, an hour and a half later still nothing. I was beginning to believe that it would not work.
After two hours the magic………….
From tiny hairs here is that the natural chemical plant produces the wonder: I open the pot and the milk is accagliato!!!
There I put a toothpick and, with immense satisfaction proceed to do the MIO MIO cheese with vegetable rennet.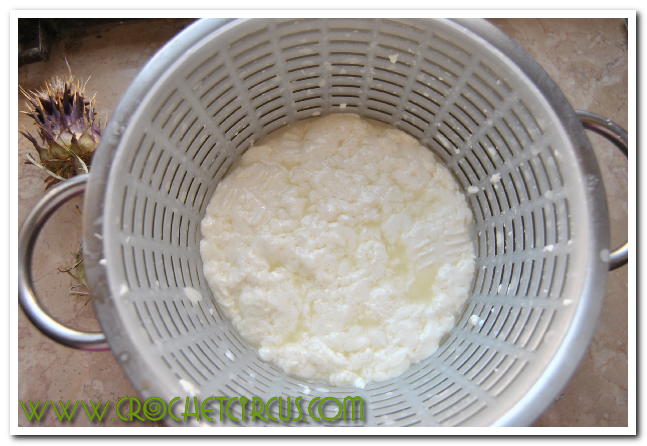 The result was a primosale very tasty and soft texture and appetizing. A cheese completely organic and natural fresh taste of milk.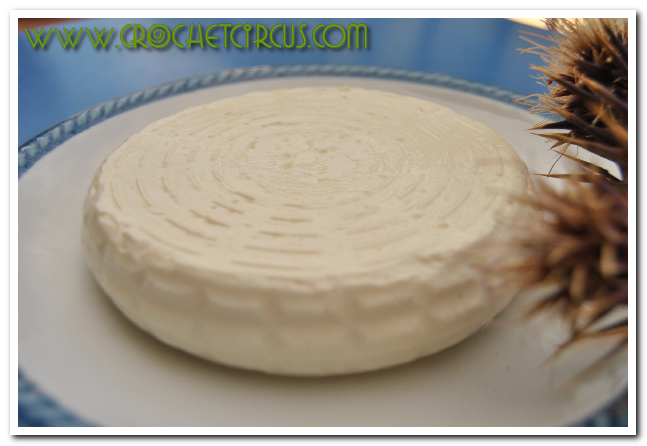 I will give you the recipe I followed, kindly provided by Rosanna D.V. of Facebook Group for lovers of homemade cheese:
Primosale
5 lt latte crudo ( if you do not have the raw milk you can use the fresh pasteurized milk, ma non l'UHT, and add a spoon of yogurt with live yoghurt every two liters of milk: with raw milk yogurt is not needed)
add port to 38 ° 40 gr salt stir well and then add rennet depending on the title (I have added my vegetable rennet made from the thistle with provedimento described above) eg 2-3 ml of vegetable rennet sold in some stores and online
stir well and cover you for incoperto 60 my. or more (with rennet from thistle 2 hours), until the curd is formed (toothpick test: if we are stuck upright is ready)
I break a cross look 15 my.
break and look forward to hazelnut 15 my.
I put in the molds (these quantities with me come three molds from the 8cm diameter).
within two hours of the addressed 4 times and then put in the fridge with plastic.
We there so we enjoyed at dinner and later disappeared. The empty plate has not, but, seen running out to my satisfaction: I ran from my grandmother to tell her that the magic had occurred, that my / his vegetable rennet worked!!! Law, as always in these cases (did the same thing when I told her of my first homemade bread the mother paste) he looked at me a little' amazed wondering, perhaps, because I doubted the success of a thing for her obvious. What she does not understand is that the daily routine of his life as a child today we do not see them anymore and that every time that I can recreate them and to obtain a product with my hands, I still consider it a kind of miracle!
Share and Enjoy